If you are travelling to Bordeaux, here is a post that you might want to read. As you may know, Bordeaux has a beautiful coastline plenty of sandy beaches. And the closest coastal town is Lege-Cap-Ferret. Among others, Cap Ferret is a very popular summer destination. The Cap Ferret has got everything you want. It's got stunning beaches, cute villages by the Bassin, nature all around, outstanding views, well recognized restaurants and of course OYSTERS! They are huge oysters' producers in the region. In this post I am going to focus on the unmissable little village of L'Herbe, Lege-Cap-Ferret. So then if you are planning to visit the region and would like to know what to do in the Cap ferret, well just keep reading!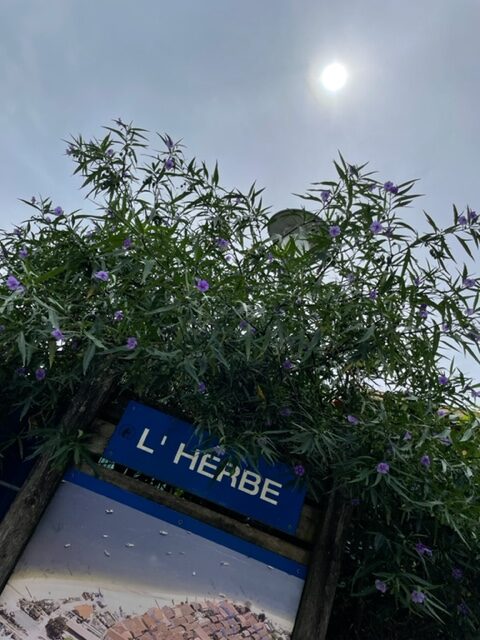 Visit "Le Village de L'Herbe"
L'Herbe is a small village situated in the commune of the "Lege-Cap-Ferret" between the villages of "Le Canon and "La Vigne". You can easily get there as The Cap Ferret is accessible by one and only road from Bordeaux/Merignac. Renting a car could be the perfect way to visit the area. Although you can also get a bus from the city centre of Bordeaux. The journey to the Cap Ferret takes a little longer but it's a cheaper option. If you are already visiting the area on the Arcachon side, you also have the option to get the Ferry. This option is a bit more expensive than the bus but totally worth it for the fantastic views.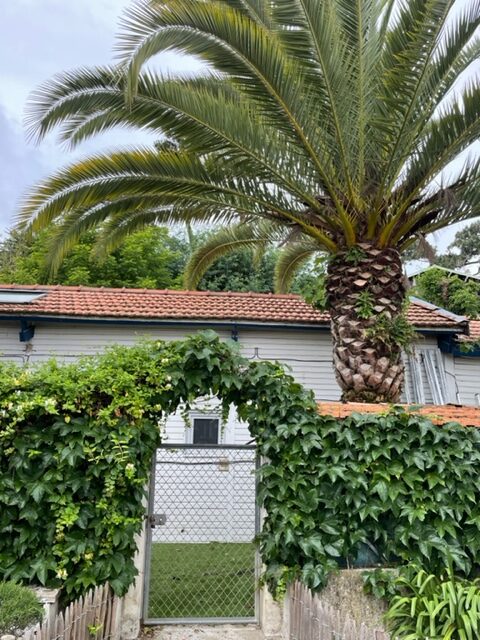 A charming and peaceful place
L'Herbe is a tiny but beautiful village. And this must be my favorite place in the world  to go to when I visit my family in Bordeaux. Like all the other villages, it's surrounded by stunning views, big pine trees and very cute colorful houses. Also, this very charming place is mainly composed of colourful fishermen houses and oyster farms. Hence, you'll only find Oysters bars around and no restaurants. But if you like oysters like me, this shouldn't be a problem at all! In addition, "La Plage de l'Herbe" is a very nice and calm beach where you can spend a few hours just relaxing and gazing at the boats. You can also swim in peace as you'll have no waves in this beach.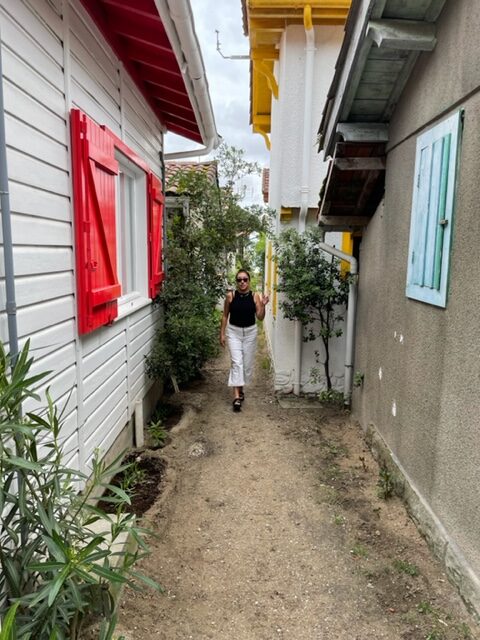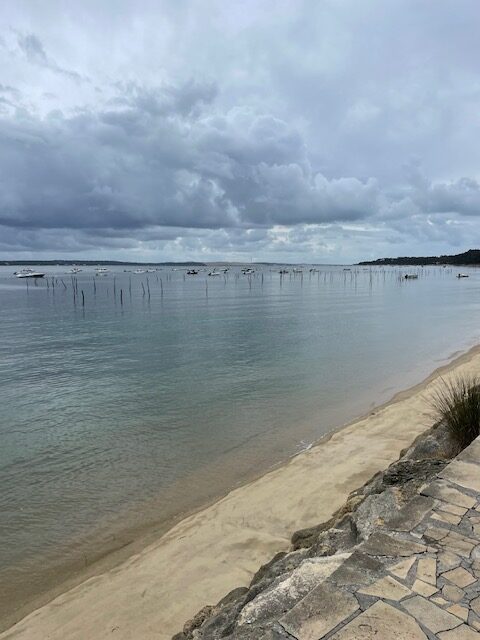 L'Herbe Lege-Cap-Ferret is A paradise for Oysters and sea food lovers
As mentioned previously, there are a few oyster farms and producers in this little pueblito. They all pretty much produce in the area. Their oyster farms is very often just by their oyster bars. The cherry on the cake is that almost every oyster bar is situated on the edge of the water. And because of that, the views are just phenomenal. Depending on where you are you can even see the Dune du Pilat.  
Settled in very pleasant outdoors, those "Cabannes a Huitres" in French, have all very gorgeous decors. There you eat oysters and drink a nice white wine while enjoying the view. Along with oysters, you can very often degust other sea food like prawns, clams, whelks  or even pate. That said, you have to know that this is the only food that every single oyster bar sells. No other food or other drink will be available. Only the sea food I just mentioned and white/rose wine. 
Note: Those places can get quite busy during summer so I highly recommend to go for late lunch after 2pm to have a more peaceful moment and a better experience.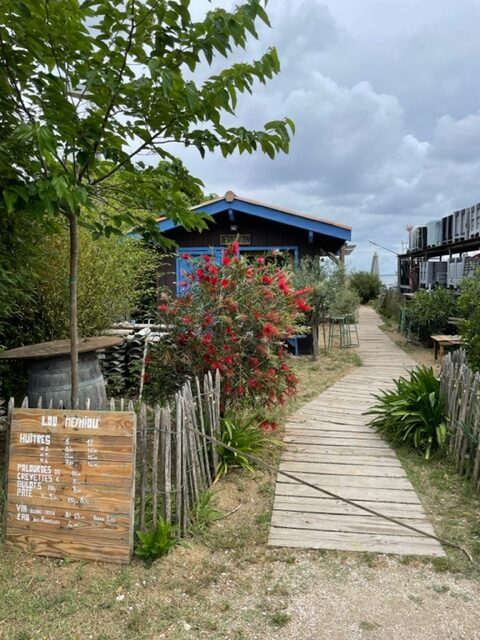 Why you should visit l'Herbe, Cap-Ferret
This place is the perfect spot to visit with family, friends or a lover. The atmosphere is fantastic and this must be probably the prettiest village in the Cap Ferret. Just make sure to take your camera with you as there are plenty of instagrammable spots there! Also, obviously is  you love sea food this is the place to feed your soul and make your belly happy. 
How about you, would you visit l'Herbe? Just let me know in the comments below!