You need some holidays and want to go on a mini trip that won't cost you a fortune? look no further. Portugal is the ideal destinations as it's only a 2h45 flight from London and tickets are very affordable with Ryanair or EasyJet. Heading to the Algarve in South Portugal, can be a win win if you if you are looking for sandy beaches , nice food and of course SUN! Whether you are going for a week or just a few days, there is plenty to do in the algarve. In this post I am going to talk to you about the places I personally visited during my last mini trip to Albufeira. If you are looking for the perfect spring/summer destinations in Europe, it's over here keep reading!
Discover the beautiful Beaches of Albufeira
Albufeira has got so many beaches where you can find something to do. There are 25 beaches in total, which is pretty amazing considering that Albufeira has only 30Km of coast line.  Most of them have orange and white cliffs that makes the experience beautiful. And the best of the best is that they are all sandy which is more enjoyable for your little feet. The main beaches of Albufeira, are very easy to access from the Old Town, like Praia Do Peneco or Praia Dos Pescadores. Also if you walk a little further on the left, you'll find Praia Dos Alemaes which for me is nicer and more quiet. 
Praia  De Oura is a short drive from Albufeira city center. I would avoid it though if you want to spend a tranquil moment. On that note, Oura Beach is a small beach and near The Strip so it gets very crowded with many party people. To a greater distance on the same coastline, Praia Santa Eulalia is right next Praia De Oura. According to our Uber driver, this is the most peaceful beach of Albufeira. And I totally agree. This beach has it all in one, the orange cliffs, fine sand, turquoise sea, restaurants, beds to rent and palm trees. I totally fell in love with this beach which was not too big but enough space even in between to rocks. If you are a surf lover, Praia De Gale is west side of Albufeira and apparently it's the best spot to hit the waves. There is also a surf school there where you can get lessons.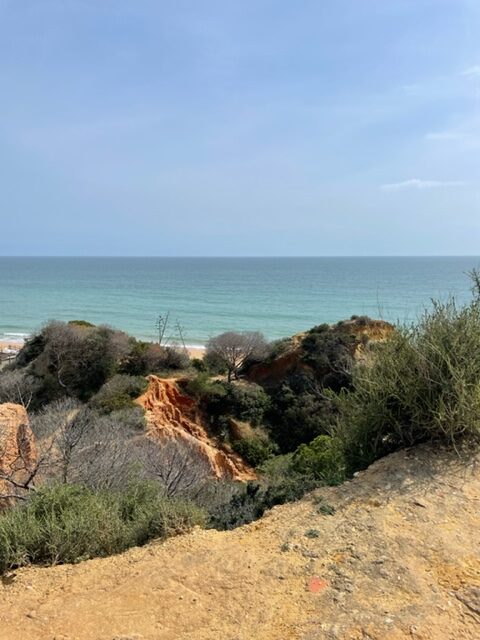 As a beach lover, I like discovering as many different beaches as I can when I travel because they all have something unique.  There wasn't any beach I disliked during my trip. They are all beautiful beaches, safe , with restaurant or shops within a walking distance. Of course if wild beaches are more like your thing, just rent a car and drive along the coast. You'll find plenty of beautiful ones but bare in mind that they can be quite dangerous as they are quite difficult to reach through the cliffs.
As Albufeira is a coastal city, you can expect to see loads of water activities. From the beach you can often see all the people doing parasailing by boat. So if this is something you are into you can book that online for really reasonable prices. In addition there are so many other water activities that you can do like Dolphin watching, kayak coastline tours, sailing tours or even Caves boat cruises. These mainly can be booked online. However, you also have the option yo book that in one of the companies' stalls that are based in the Marina and where you can also pay in cash. 
If water activities are not for you, why not try this?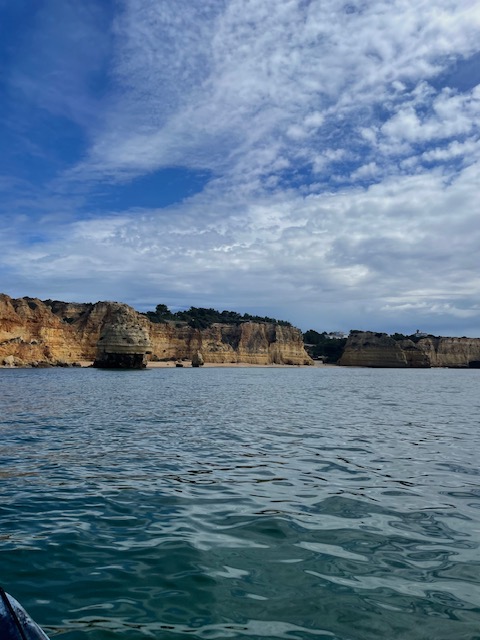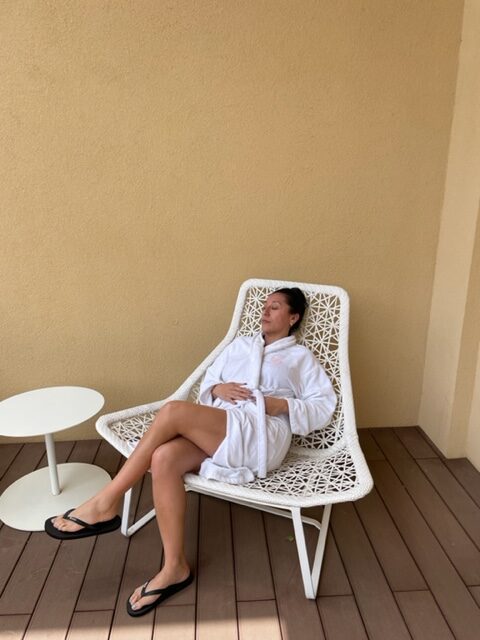 There are plenty of restaurants in Albufeira. The city has got more than 500 restaurants on its own with many variety of different foods. Head to the Old town where the choice will be limitless. There, you will find so many bars and places to eat. A large number of bars have outside seatings where is nice to grab a drink before going for a meal. The old Town can be a little loud as it's very popular with tourists. In the case you are looking for a relax kind of meal and want to avoid the crowd, walk on the outside streets of the old town where you 'll find more some local cuisine and typical Portuguese bars. And obviously better prices too. If you want to go more on the romantic side, there are a few restaurants on the beach or near there with an amazing ocean view and where the ambience is more chilled out. On that note, with their outstanding decors and because of their prime location some of those places can be more expensive.
List of restaurants you can enjoy in Albufeira
Situated in the hart of the Old town this small restaurant is a real little gem. They have a nice roof top with view on the old town. The staff is extremely friendly and the tapas and drinks are to die for. Try the oysters which come with a passion fruit sauce and the white sangria, both absolutely gorgeous. Turn up early when they open so you can have the whole roof top for yourself!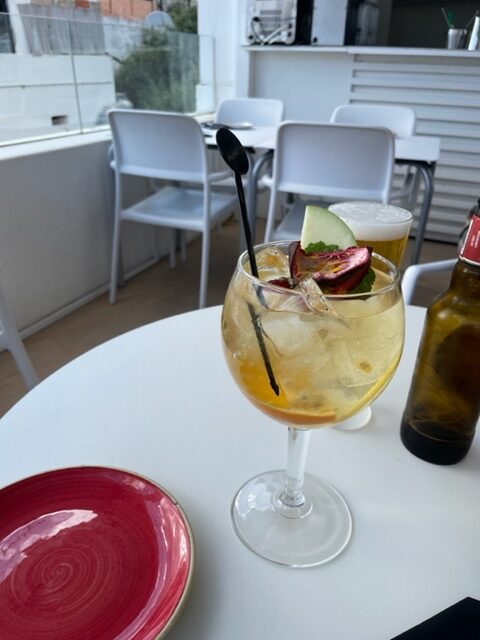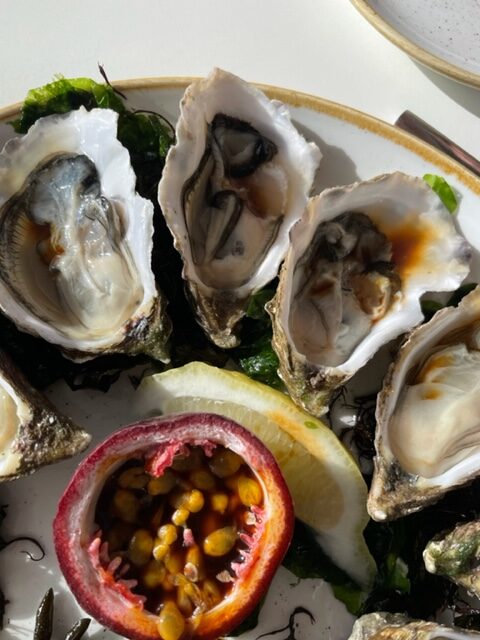 This cute restaurant is right on the beach. The location is perfect to have a lunch with a view as they are only open until 6pm. Inside or outside seating are available. The food is very good and fresh. The restaurant is nicely decorated with a Beach club vibe.  And as many other restaurants, they offer the option to pick a fish/seafood in the "catch of the day" fridge. It's more pricey than the places in the Old Town but I really recommend if you want to treat yourself and spend a romantic moment on the beach. PS: Try the red prawns if you see any in the catch of the day section and drink one of the "Corona beer cocktails". That'll get you straight in the holiday mood!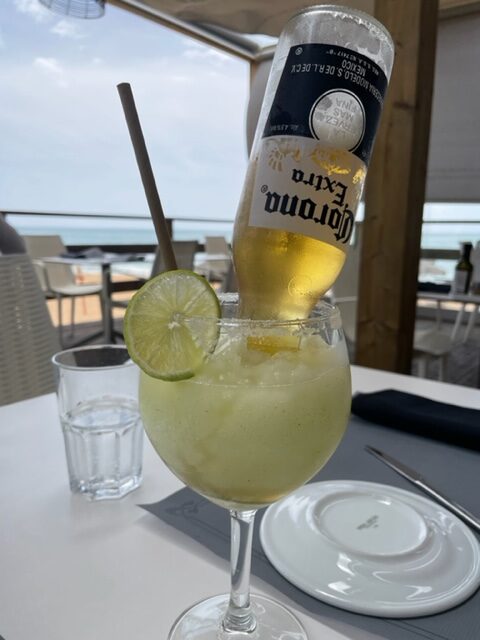 This little hidden gem is on the top of a hill just  a few minutes walk from the old town. To be honest this place doesn't look too fancy from the outside. However, don't be scared as the staff are very friendly and very efficient with he service. They serve very tasty local food for very affordable prices. And if you like seafood, try the Octopus in the specials it's delicious. What else to say? Just go there if you can for a cheap eat, trust me, you won't regret.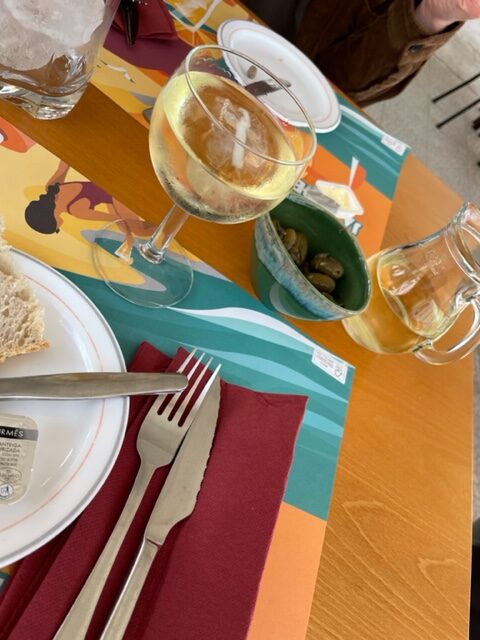 This is a brilliant place with the beautiful Santa Eulalia beach as a background. The Aesthetic decor is gorgeous and perfect for Instagram pictures. Like the Beachspot restaurant, they also have fresh seafood in a fridge where you can pick your fish. Their menu offers different variety of foods and the chef grills the meats right in from of the customers on the side of the restaurant. The staff here were not as nice as in other places but I think that was only because we were there on a Sunday afternoon/Lunch time. They get very busy in there and that's very understandable as the view is spectacular. With this in mind, do not go if you are in a rush or starving as it can feel a little slow. After all, who cares when you are on holidays? Just enjoy the moment and the beautiful setting!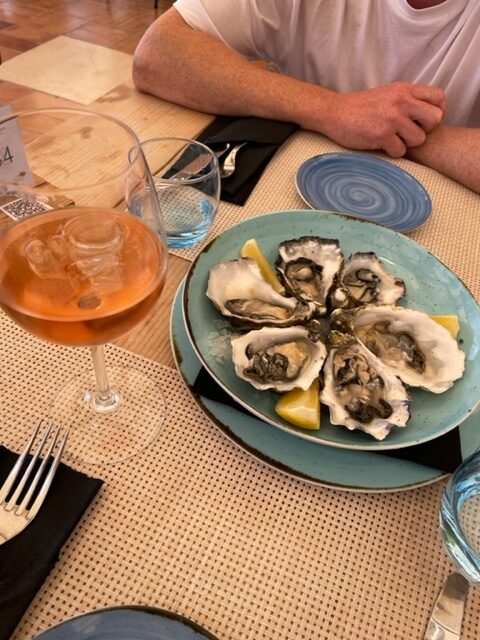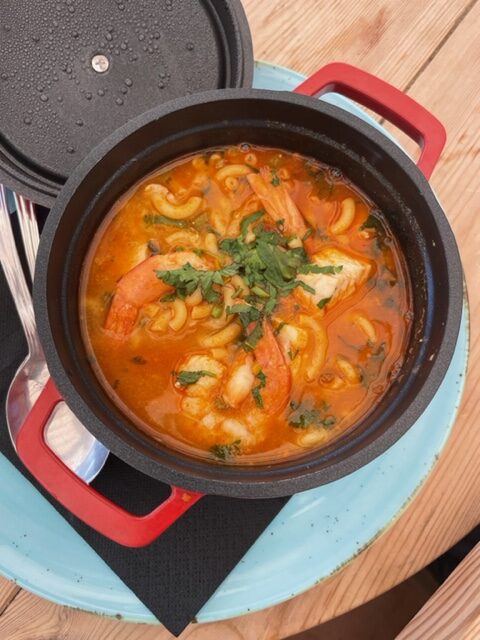 What about you? Are you planning to visit Albufeira soon? If so, just let me know in the comments below.
If you enjoyed this post you might also like this one too.