Whether it was for Halloween, for a themed party or during your teen years in the 90s, we all have worn some kind of 90s outfits at least once in our life. I had the chance to grow up in the 90s and the 90's fashion and trends were so cool! I remember all those cool outfits I used to wear when I was a young girl until my teenage years. So classic and stylish that people style wear them or try to recreate them even nowadays.
In my memories, the beginning of the 90's fashion and trends were all about the Maui or LC Waikiki tee shirts, Neon biker shorts and very colorful elastic strap sandals. I remember I had some purple flat ballerina I wore with EVERYTHING, but mostly with shorts and leggings.
The brand L.A. Gear was also very trendy at that time. Particularly the trainers which people used to wear them with colorful biker shorts or cotton mini skirts and sporty socks. Thinking about that I even had the L.A. Gear Barbie at some point, and the neon and colorful Barbie's outfits were so so cute!
Among so many here are a few trends and styles that were very popular. The polar fleece was somehow very trendy in the middle of the 90's. The checkered skorts (shorts in a skirt) was also very famous and the girls used to wear that with a tank or a crop top and chunky canvas sneakers. The floral pattern was very popular and you could see that in every type of cloth like the floral dress on top of a tee shirt was one and still is one of my favorite. The mini or long flannel skirt , the floral body suits and high waist denim shorts and/or jeans or even accessories. Girls used to wear to wear plaid trousers with loafers and let's not forget the waistcoat with a bodysuit and a pair of jeans outfit.
I was a big fan of chunky shoes and I still am tbh. When I think about my chunky shoe days, Oh My it was something and all the girls were so crazy about them. I feel like the chunky shoes vibe went through a few different stages though with various famous brands like Buffalo, Fornarina, No box, No Name and more.
I know that I'm not talking about every single trend like the Nirvana grungy style and I am probably forgetting a few things. But bear in mind that above are the styles I personally went through during that decade, so this is kind of my 90's outfits journal 🙂
90's trends and styles, Best 90'S Outfits From TV And Movies
Even the if movie is set in only one day, the only outfits that we can see in that one day are pretty cool. Corey (Liv Tyler) Is pretty much wearing the perfect 90's outfit by all means. Crop top, checkered skirt and ankle boots. A classic! I also really like Gina's (Renee Zellweger) outfit. A simple mini skirt with a crop cardigan, my favorite are her pair of shoes. Just love them!
I loved the outfits that Vanessa (Reese Witherspoon, I love her! ) wore in this movie, very 90's obviously that little red mini skirt and striped crop top. I say yes yes yes!
I have always been a fan of all the Rachel Green's outfits but I really think that Monica Geller had killer outfits too so had Phibie. The floral shirt on top of a black tee shirt is so  cool ! I actually still recreate that kind of vibe as it's simple, easy  and so 90's. Go Monana !
I was such a fan of this TV show, I remember, it was on every Saturday evenings at 7 and I literally never missed it. Aside from the fact that I was in love with Luke (I'm pretty sure I wasn't the only one), I think I also wanted to be all the girls. I mean come on, they were all beautiful, rich and super cool. Their outfits were to die for and absolutely 90's gorgeous on all the bloody episodes!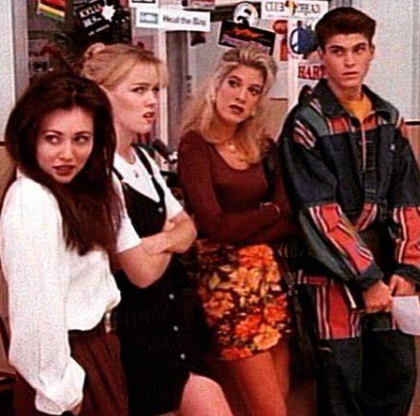 Another very famous show from the 90s.  No, I'm  not going to talk to you about Zac, I think I was just a bit jealous of Kelly though, not only because dated him but also because she had the best outfits ever! Kelly Kapowski was the prettiest and the coolest girl of the high school. And among so many outfits, I've chosen the picture below to show you how cool the 3 girls from Bayside were!
How to recreate classic 90's outfits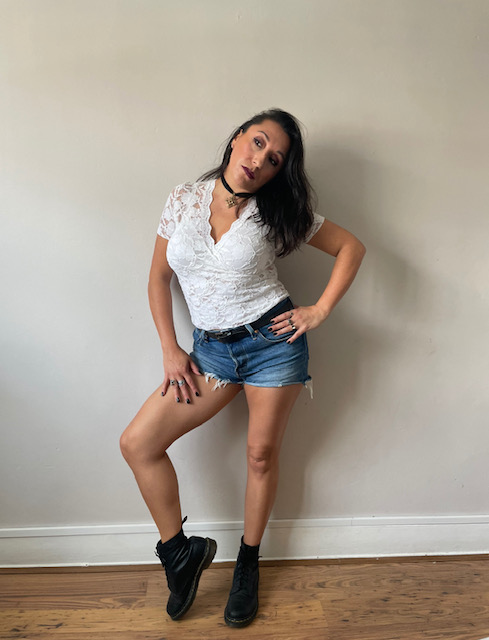 This look is so simple to recreate as we probably all got a denim short in our wardrobe. If not, you can find  denim shorts almost everywhere nowadays. I normally go for Levi's denim shorts and you can find a similar ones at Urban Outfitter. Add a lace top, some Dr Martens boots and accessorize with a nice velvet necklace and/or nice silver jewelry. Et voila!
This is a classic 90's look. Very simple, cool and also one of my favs. A floral dress, a white top under the dress and a pair of boots. You can also play with the colors and depending of the dress colors you can either wear a white, black or a different top color.
As I was saying earlier in this post, the Neon looks were very trendy in the 90's. To recreate a Neon look, you just need to grab a flashy neon tee-shirt, a neon biker short and a pair of neon converse.
4. The Basic Floral skirt look
Here again we have a very simple 90's look. Simple but cute. A mini floral skirt with a tank top and some black platform sandals. The top can also be cropped and the platform sandals can be replaced by Dr Martens boots.   Easy to wear anytime in the summer.
5. The Cool School Uniform
This is one of my top favorite 90s look which I happily still wear. The look is so simple and it looks so cool.
I like the fact that it looks like an uniform but it's not. I think anyone should be able to recreate this look, with a checkered skirt, a white tee-shirt, low Dr Martens s or Loafers shoes. Some white socks and a denim jacket if you want to complete the look depending on the season. Also don't forget to accessorize the look with a very 90s long chain  necklace with a cross pendant. That's what make the look cooler !
The 90s fashion was so good and I think that was my favorite decade too. We had so many choices regarding the trendy clothes and it was so cool. Even though some 90s trends are coming back, I have always recreated some classic 90s styles and always have some 90s vintage clothes in my wardrobe. How about you? Did you like or do you like the 90s trends? Let me know in the comments below which one of the looks above is your fav! : )