Hastings, the cool coastal town in east sussex, england
If one day someone would have told me that I was going to spend my summer holidays in England, I would have said "No freaking way"!! 
Since Covid, staycation is now an options for a lot of Britons and to be honest I think it's not a bad idea. I think, it's the perfect opportunity and a nice way to discover England a bit more. This also gives you the opportunity to visit places where you wouldn't normally go  eg. the beaches!  
Of course, when you think beach, you think straight to a nice beach in Italy or in  the south of Spain. BUT, let me tell you something, England has has a lot to offer and nice beaches too! Yes , my friend you 've heard me : ) 
Indeed, the south of England has really nice beaches, sandy or pebbled, you actually have the choice. 
I know that you'd think " yea but in England the weather is rubbish". Wrong. We do get some sun sometimes and that is where you need to be clever when organizing your gateway. 

Just go away when it's sunny and organize your trip in advance Also, check the weather online weeks ahead and get a hotel where you have the possibility to amend your booking or opt for a free cancellation in case you need to change your plans because of the weather. 
Three years ago I discovered Hasting and to be honest I am so glad I did because I now know where to go when I want to spend a few days at the beach. So I thought I'd talk about it as I think it's  is a perfect getaway for a staycation.
I have been in Hastings twice during the summer for  a few days. Also my boyfriend and I really enjoyed ourselves. It's not far from home, probably less than 2 hours drive from London.  You can also get a train from London St Pancras station if you don't drive (cheap tickets available if you buy them in advance). 
So without a doubt, if you need to get some fresh air by the sea and don't know where to go just keep reading!
What to see and do during your trip to Hastings.
Hastings has it all, the beach , a lovely old town , a pier with loads of activities during summer time. Also, you can find a few museums, an aquarium, a crazy golf, nice pubs, and cool shops.
I have pulled out a list of things to do and places to eat that I personally tried and recommend  if you ever decide to go for a weekend or longer : )
We always stay at the Chatsworth Hotel. The prices are normally very cheap if you plan in advance and they've got a nice Indian restaurant on the ground floor. The beach is across the street and also at a good distance to main attractions to Hastings or St Leonard-on-sea. Although probably not for fussy people as a bit old. Tbh, it does the job if you only spend time in your room to sleep.
For a good breakfast, not far from the Chatsworth Hotel there is a place called the Bullet coffee House. I totally recommend this independent little cafe. It's a cool place and they do nice, healthy and affordable breakfasts. If you fancy something more in the holiday vibe, you can walk toward St Leonard and you have an Hotel called The white Rock opposite to the Pier. They serve more classic and affordable breakfasts outside in the terrace with sea view. You can turn up even if you are not staying at the Hotel.
Chatsworth Hotel, 7-11 Carlisle Parade, Hastings TN34 1JG
The Hastings Arms, is a nice pub with a small terrace at the back and the food there is quite tasty. I mean any pub would do it as they all are cheaper than in London and almost all have specials with fresh sea food. The Dolphin Inn is cool for a  drink or two in the small terrace outside. We also had a meal there but in my opinion the food from the Hasting Pub was better. If you are into fresh sea food and want a quick lunch, you can also grab a quick takeaway meal at one of the sea food stalls in the promenade near the old town or near Rock a Nore beach. There are plenty of them with oysters, cockles, etc…
You can also turn up at the White Rock Bath (opposite to the White Rock Hotel) on the evening, this place is an old spa/ baths turned into a skate park. How cool is that? The whole building has got a lot of character, even a bit spooky if you go to the toilet when it's dark. But totally worth a visit though, they have food & drink stalls outdoor and live music too! : )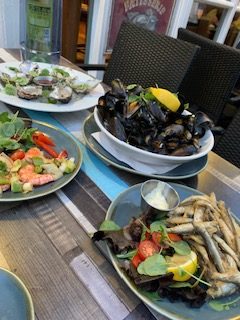 One evening, we ended up at the "Whites seafood and steak bar" a family run restaurant in the old  town . If you are a fan of sea food, this is the place to go for a very nice meal! Very nice ang good portions (as you can see on the picture) and very tasty. You can even seat outside and enjoy the nice buzz of the street.  No problem if you are not into seafood, they also do steaks and other dishes.
 Whites Seafood & Steak Bar – 44-45 George St, Hastings TN34 3EA
random things to do in hastings
Walk on the top of the East Hill and enjoy the beautiful view 

Walk along the beach  

Discover Rock-a-Nore beach 

Have a wonder in the old town 

Enjoy a cocktail at Seed Hastings

Try cheeses at Penbuckles Delicassen 

Grab a coffee or a drink at the Goat Ledge

 Or just sit down on the beach, watch the ocean, take a deep breath and be happy!